Denise's Ancestors:
The Bodine's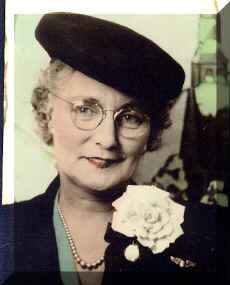 My grandmother Mabel Florence Bodine Oliver (in 1943 in Chicago), was the only grandmother I knew, and she helped raise me.
She was the best grandmother a child could have, but I knew that life for her had been difficult. Leaving her family after making an inter-racial marriage at a time that it was illegal to do so in Kansas was difficult for her.
In Chicago, where my grandparents settled after they married in Milwaukee in 1915 she became a Baha'i - a faith that embraced people of all backgrounds. I have not been able to find her listed in the archives - but did receive a confirmation of her membership in New York, where my grandparents moved when I was born in 1947.

This is a photo of my grandmother and other Bahai's taken some time in the 1930's or 40's (I think) Click thumbnail to see full-sized She has a check mark over her head on the upper left. I would love to hear from anyone who can identify other's in this photo.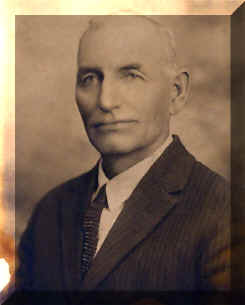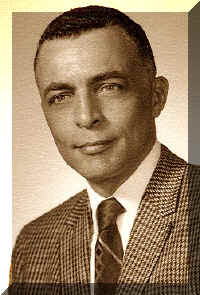 My great grandfather George Emerson Bodine, and my father George Bodine Oliver, who never got a chance to meet in life due to the walls and barriers placed between races.
George Emerson Bodine was born July 28th, 1863 in Dearborn County, IN and died July 23rd, 1948 in Lyon County KS. According his obituary, "In 1884, he married Edwardeen Bratt of Emporia, who died in 1893. From this marriage four children survive: Mrs. Mabel Oliver, of Brooklyn, NY (my grandmother), Mrs. Pearl Crawford, San Bernadino Calif., Mrs. Anna Raikes, Emmett Kansas, and Harold L. Bodine, Burlingame, KS.
In 1894 he married Mary Estella Burns of Burlingame who dies in 1936. Surviving children are Ernest P. Bodine, Osage City, KS, Mrs. Alta Ogleby, Topeka, KS, Ralph E. Bodine, Scranton and Mrs. Lucille Schoenfeld, Oklahoma City.
The obituary mentions that he was also survived by twenty-two grandchildren and twelve great grandchildren, and by his third wife Edith C. Haller of Admire Kansas, who was the sister of his second wife.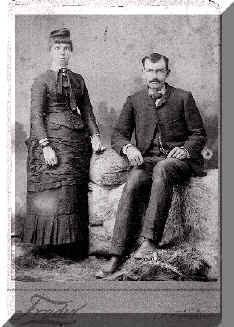 My great grandfather and his first wife Edwardeen Hortense Bratt
According to my grandmother, Edwardeen wrote poems and songs. I found this in an envelope of my grandmother's labeled
"written in my own mother's hand" . She cherished this small memento of her mother.

click on thumbnail to read and view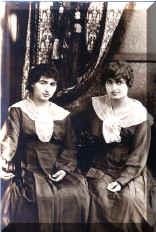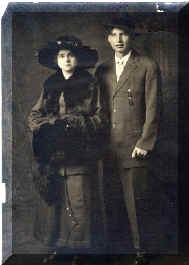 My grandmother's sisters Effie and Alta and her brother Harold and his wife.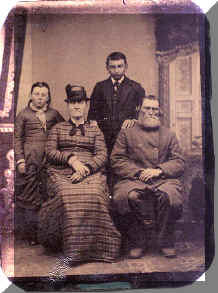 My great great grandfather Benjamin Bodine, and his third wife Elizabeth Nocks; not George Emerson's mother Maryann Sutton McIntyre; with George Emerson and sister, in an old tintype.
Benjamin Bodine served in the Mexican War, Indiana Soldiers 3rd Regiment Indiana Volunteer Infantry Mexican War Company K. This Company consisted mostly of soldiers from Dearborn County, Indiana, called the Dearborn Volunteers.
Benjamin Bodine
Dearborn County. Mustered in 18 Jun 1846, at New Albany, Indiana, by Colonel Samuel 
Churchill, mustered out 27 Jun 1847, at New Orleans, Louisiana, by Colonel Samuel 
Churchill.
After he mustered out he married Elly (Ella ) McMullen, Nov 25th 1847.
From Indiana State Library Genealogy Division Indiana Marriages Through 1850


Last Name, Bride or Groom:
BODINE
First Name, Bride or Groom:
BENJAMIN
Last Name, Spouse:
MCMULLEN
First Name, Spouse:
ELLA
County:
DEARBORN
Date:
11-25-1847

Elly died- Mar 5 1853, and on 20 October 1853, Benjamin married Maryann Sutton, born 29 May 1832. Maryann was George Emerson's mother. Maryann died 22 Feb 1867.



"Be it known, That on the 18th day of October in the year eighteen
and 53, a marriage license was issued to Benjamin Bodine ----
Mrs. Mary Ann McIntire.
Which said license is in the words and figures following, to-wit: State of Indiana , Ohio county,
empowered by law to solemnize marriages in the county of Ohio greeting: You are hereby
join together as husband and wife, Mr. Benjamin Bodine and Mrs.
Mary Ann McIntire according to the laws of the Sate of Indiana.
IN TESTIMONY WHEREOF, I John R Ross Clerk of the Circuit
county, hereinto subscribe my name, and affix the seal of said Court, at Rising Sun
this 18th day of October A.D. 1853 (Signature of John Ross)
The marriage of whom is thus certified: State of Indiana , Ohio county. I, the undersigned a
Local Elder in the M.E. Church do hereby certify that Benjamin Bodine
------- and Mary Ann McIntire -----
joined together as husband and wife, on the 19th day of Oct. 1853 by me.
(signed) A, J. Cotton"

(transcribed and sent to me by cousin Robin Toms)
We were confused for some time about Mary Ann - since the family bible listed her as McIntyre - recently Robin Toms discovered new documents, including an interview with George Emerson Bodine, my great grandfather in which he discusses his father Benjamin, and his mother Mary Ann, stating Mary Ann's maiden name was "Sutton", and naming her brothers and sisters as "Rachel, Louis and George W". Robin then found a marriage record for Mary Ann to Davis McIntyre. George explains that his mother was a widow when she married Benjamin.
This has opened up a whole new line of research for us. Will be adding more SUTTON information after we pull it together.
Benjamin remarried Elizabeth Nocks, after Mary Ann's death and here they are in the 1880 census:
1880 Census Place: Center, Lyon, Kansas
Source: FHL Film 1254387 National Archives Film T9-0387 Page 316C
Benjamin BODINE Self M M W 57 OH Occ: Farming Fa: NY Mo: OH
Elizabeth BODINE Wife F M W 49 IN Occ: Housekeeping Fa: ME Mo: ME
George E. BODINE Son M S W 17 IN Fa: OH Mo: IN
Allie M. BODINE Dau F S W 10 KS Occ: At School Fa: OH Mo: IN
The Bodine's are a large clan, and my grandmother was the oldest of the six children by his first wife. When her mother died, her father re-married Mary Estella Burns a year later and sired six more children. Upon the death of Mary Estella , he married her sister Edith Burns Haller in 1937. While searching the internet, I found a website devoted to Bodine family history. With it I was able to trace this lineage back to the early settlers in New Amsterdam.
I currently live in Ulster County New York, and was surprised to find out that though I just thought of my grandmother's family as "people from Kansas", I am currently living very close to the church where my g-g-g-g grandfather Wilhelm Bodine (all of these "g's" are confusing me) was married and to the cemetery where he is buried.
Until recently I had never met any of my Bodine relatives, though Helen Bodine did correspond with my mother and father before they died, and I thank her for several more pieces of the family puzzle I am putting together. I have thumb-nailed them to save download time. I have written her notes that were on the back of each photo next to them

My Daddy Geo. Bodine, Nephew Dick Crawford, Niece Flora Bodine

Sister Pearle

Pearle and Mabel

Mabel, Pearle, Anna, Harold

Sister Effie and first husband Elmer

Sister Effie and 2nd husband Mike

Sister Clara Lucille and husband George Schoenfeld

Frank Haller

Harold's baby Flora and Grandpa Bodine, baby age 5 1/2 months May, 1918
Bodine family photo, George Emerson Bodine in the center

Brother Ernest on the farm

Brother Ralph and wife Ethel

George Emerson Bodine and other family members

1944

Maxine Denny, Sister Anna's oldest daughter

Earl, Mary and Doris Bodine, children of Ralph and Ethel Bodine

Nephew Marvin, Ernest and Ethel's son.
Recent additions to the photo album
Well thanks to cyberspace, as of Wed, 20 Jun 2001 I am in touch with long lost Bodine family members - some who didn't know the story of my grandmother at all. I've received quite a few e-mails, made and received many phone calls and shed a few tears. I know that where ever my grandmother Mabel is, she is smiling.
Some of my new found cousins are sending me more photos and parts of the family history I knew nothing about. Will continue to update as things come in and will get names, and dates in as soon as I straighten it all out.
I also received a visit from my young cousin Joe Bodine, and we spent several wonderful days researching the Bodine family history in Ulster and Orange counties of New York.
From Helen Bodine, granddaughter of George Emerson and Mary Estella :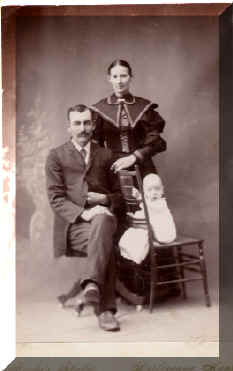 George Emerson Bodine and second wife Mary Estella Burns with baby Ernest,
born March 2, 1897.
From Joe Bodine (g-grandson of George Emerson Bodine and Mary Estella):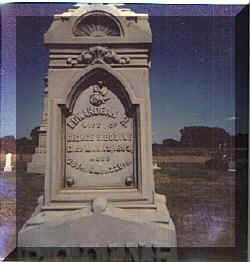 The gravestone of Edwardeen Bodine, first wife of George Emerson Bodine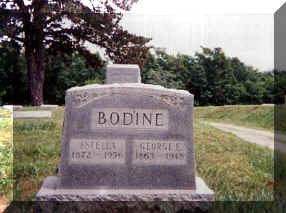 The headstone for George Emerson and Mary Estella Burns Bodine

The old schoolhouse near the farm

George Emerson Bodine with horse on the farm

The Bodine Farm

Ernest and Ethel Bodine (Joe's granddad and grandmother)

Ernest and Ethel's children; Marvin, Fern , Helen and Preston - June 1958
From Robin Toms:

George Emerson Bodine, Effie Marie Bodine Son Simes, Maryls Son Stathos, Marcia Stathos

Effie Marie Bodine Son Simes
More pictures are on the way.....stay tuned
July 9th 2007
Finally got around to putting up new pictures - these were sent by cousin Eddie Wilson - who is related through Allie May Bodine Schriner:
The Bodine's and the Schriners

Click the lamp to go to the next page: The Bratt's