Denise's ancestors
Bodine's of Ulster and Orange Counties, New York
including Migration to Hamilton County Ohio, and Dearborn County, Indiana
Cousin Joe Bodine from Kansas, my cousin Margo Williams from Philadelphia, and I uncovered quite a few leads on the early New York Bodine's and took some pictures as we explored Ulster and Orange counties.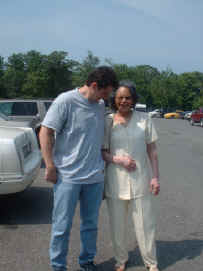 Joe and Margo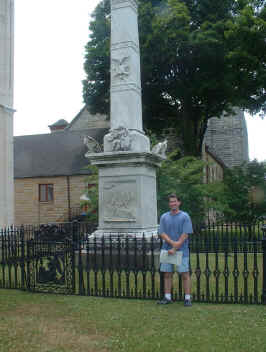 Joe and Revolutionary War Monument in Goshen NY
Though it's been some time since his visit to my home in Ulster County (in 2002) - I'm just getting around to sorting out what we unearthed and I still have a long way to go - but here are some of the photos: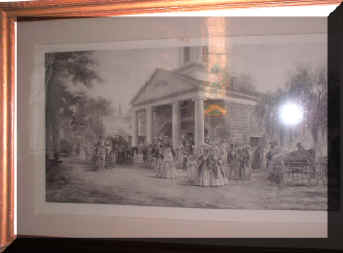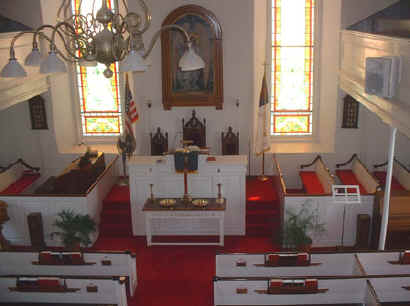 Shawangunk Dutch Reformed Church - exterior (print hanging in the church) and interior shot taken from the old slave's gallery.
This church was the location of the wedding of William Bodine to second wife Charity Terwilliger, Dec 29 1789.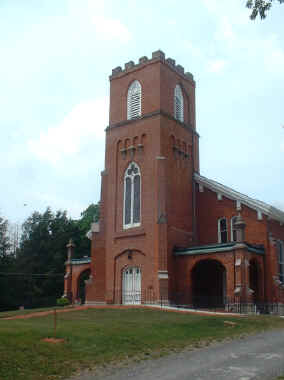 Dutch Reformed Brick Church and Cemetery
This is the church where my 5th great grandfather William Bodine, and several other family members are buried in Montgomery, Orange County, NY:
I will be adding more pictures and documents as I scan them.
Wilhelm Bodyn, was born abt 1710. Nothing is yet known about his wife. He had at least three sons, Peter, Jacob and William. Our Kansas Bodine's are descended from his son William.
William Bodine was born in Wallkill/Montgomery, Orange County, NY 02 Feb 1737/38
William had two wives. He married Maria Melsbach, b. Oct 19 1736, daughter of Phillip Melsbach and Maria Gertrude Stemmer on 02 Feb 1760. She died about abt 1789.
They had 7 or 8 children (there is a question about David)
David Bodine b. abt 1758
Susannah Bodine b. abt 1761
Francis Bodine, b. 05 Jul 1764 ; D. 21 May 1849 .
James Bodine, b. bef. 30 Apr 1768 .
Benjamin Bodine, b. 09 Oct 1773 .
Catherine Bodine, b. Abt. 1775.
Mary Bodine, b. Abt. 1779.
John Bodine, b. Abt. 1781.
After the death of Maria he married Charity Terwilliger on Dec 29 1789
Here is William's will, from 1802:
will segment pg 1 Will Wm. Bodine page 1 Will Wm. Bodine page 2 Will Wm. Bodine page 3
There is a lot of flowery language in the first parts - the meat and potatoes reads:
" ...I give to my loving wife Charity the sum of twenty five pounds New York Currancy or sixty-two and one half dollars. together with one cow and her bedding and clothing inlue of dower.
Item. I give to my son Francis the sum of fifteen pounds of lawful money of New York and one.....(?)
Item I give to my daughter Susana Beuchanan the sum of 15 pounds and my daughter Catherine Davie (or Davis) of the like lawfull money.
Item I give to my son James the sum of 25 pounds and appoint my son Francis to be the guardian of the property hear given to my son James that he may improve to the best advantage and supply the neccesities of my said son James as occasion may require.
In finnish I give to my daughter Mary the sum of fifteen pounds together with her bed and bedding
and ........ the remainder of my household furniture of all kinds to be inventoried and divided between my wife and daughters share and share alike and after my just debts and funeral expenses are paid and discharged by my executor herein named...
Francis Bodine married Hannah Miller (or Millard) 29 Mar 1789 in Montgomery, Orange County NY. Large families were normal in those days, and Francis and Hannah had quite a few mouths to feed. They had 12 children.
The oldest was my 3rd great grandfather Elisha born in 1790 .
The others were:
David 1792 married Mary Drake
William Allsworth 1794 married Matilda Hunter
Stephen 1796
Jane 1800 married Jacob Synder
Charlotte 1802 married Adam Constable
Susan 1804 married Nathaniel M. Millspaugh
Maryann 1807 married Matthew Hunter
Marcus 1807 married Ann (Anna) Maria Constable
Selah 1808 married Sarah Scogin
Emily 1810 married Hiram Constable
Frances 1813 married John (Nicely) Knicely
For further information on their families, sources and other notes please go to Dave's Bodine Genealogy Web Site
Francis and Hannah Miller Bodine migrated to Hamilton County Ohio. I don't know the exact reason for the migration - but lands, and opportunities were opening up to the west of NY and many residents from Orange and Ulster counties of NY settled in Ohio.
Cousin Robin Toms sent this marriage certificate for Elisha Bodine to Mary Stites. Elisha married Mary Stites on 28 Jun 1821 in Hamilton County OH. His occupation was listed in the census as "shoemaker".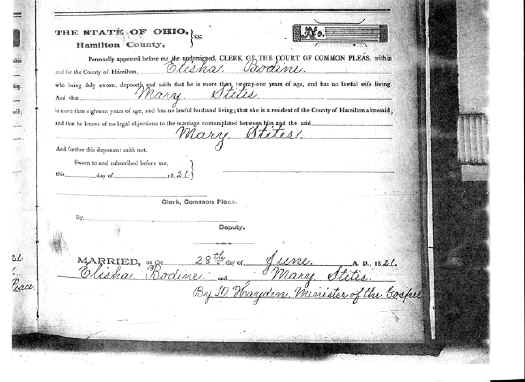 Elisha Bodine had six wives in total: 1. Sally Milspaugh- no known children
2. Susannah Comfort - d. 16 Jul 1816, Their children:
Elizabeth Catherine Bodine b. 28 Mar 1813
John Comfort Bodine b. 1814
Frances Allsworth Bodine b. 1815 married Elizabeth Wicks
3. Mary Stites (my line see below)
4. Mary Mitchell b. 1808 - children:
Jeremiah Marrow Bodine m. b. 1836 m Frances Glore on 21 Nov 1867 in Rush County, Indiana
Calvin Bodine b. 1830 died 1831
Lucetta Bodine b.12 Oct 1832 m Amos Peasley Wright in 1850 in Cincinnati OH
5. Margaretta Conover - no children
6. Lydia Ann Rowe no known children - he married her a year before his death in 1871 at age 81.
Elisha Bodine and Mary Stites had two sons, Benjamin b. 10 Jun 1822 (my gr gr grandfather) and Virgil B. Bodine b. 14 Nov 1826 in Hamilton County.
Robin sent me this interesting account of Virgil's shoe business in Cincinnati Ohio:

The account of Virgil's early history has helped me track the family, since it mentions that they moved to Dearborn County Indiana in 1837. Virgil retuned to Ohio in 1843, settling in Cincinnati. It has also given me the maiden names of his wife, and his son V.C.'s two wives.
I have other Bodine information found while we were at the county courthouse. Hope this will be useful to someone tracing this line down from William:
Will petition for Benjamin Bodine (son of William & Mary Melsbaugh brother of my Francis) July 5th 1849
The documents which I have not transcribed fully lists as Executors Francis M Bodine and Charles Buchanan, (I believe this Francis is Benjamin's son) and lists his heirs as:
"to Susan Bodine, widow, Elsy Bodine, Hannah Bodine,& Susan Bodine of the town of Crawford in Orange County of the State of New York, Lucas Millspaugh and Maria his wife and George Bodine of the town of Montgomery in said county, John Campbell and Melinda his wife of the town of Minisink in said county, John H Bodine of the city of Brooklyn in said State, and William Bodine of Battle Creek in Calhoun County in the State of Michigan, heirs of law and next of kin of Benjamin Bodine of the town of Crawford..."
later a codicil to the will is produced which names quite a few grandchildren.
I also have a few other wills from the county including that of Jacob Bodine dated 1836
And documents dealing with Charity Terwilliger Bodine dying intestate.
Anyone interested please contact me.