Welcome to the home page of Denise & Nadhiyr Velez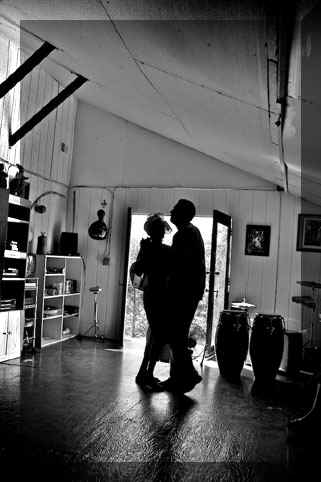 We hope you are enjoying your exploration of our Wemba cyber-domain. We both have lots of interests, and our move to a new home has been an adventure, so our personal pages have multiplied:
Renovating Our New House in Saugerties
We were married in 1997 as members of the Lukumi Yoruba faith.

Our wedding
We recently moved from Stone Ridge, New York to Saugerties, in the Hudson Valley, where we are fixin' up an old farm house and barn.
Nadhiyr teaches drum and shekere workshops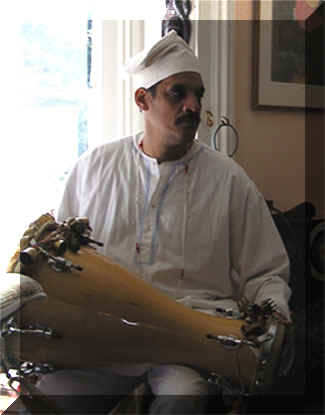 He is the
congero for Mambo Ki-Kongo, a latin-jazz band headed by Carlos Valdez,
plays drums for dance classes and
workshops with Richard Gonzales,
and Rosamaria Roberts.
He has performed with Mambo Macoco, Jay Collins,
SonOrisha, and played percussion
on Worlds Collide, by Anne Pollack and Majica.
Nadhiyr collects and handcrafts instruments,
our house is filled with instruments
especially shekeres,
and music; both jazz and latin.
He also handcrafts and beads shekeres for sale.

click here to visit the Saugerties Shekere Shop
Denise is a medical anthropologist/ethnographer working
in AIDs research, most recently as a consultant for NDRI.
She also teaches Anthropology at SUNY New Paltz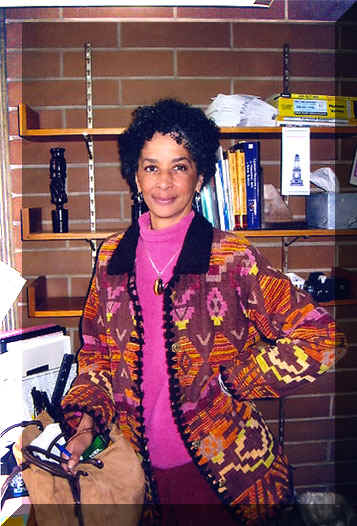 and gives lectures and
presentations on African diasporic traditions and
the revolutionary struggles of the 60's and 70's here in the United States.
She is a former member of the Young Lords Party
Central Committee, former member of the Black Panther Party, and the Revolutionary People's Communication Network .
She was the Program Director of
WPFW-FM, Pacifica, Washington, D.C.
She also grows roses, writes poetry and is
frequently found in cyberspace on gardening newsgroups,
and is the Forum Manager of the AfriGeneas Getting Started Forum
Her latest interest is re-constructing her family history
and she has collected some interesting photographs of
her varied ancestral lineages.

click the lamp to go to Denise's Ancestor pages
Meet our animal family. We have 3 dogs;
Chosi, Tabu and Kemo, three cats;
Pombajira, Vodou and Ode.

Pombajira
All of our animals were rescued, or adopted from an
animal shelter, and we also have 9 goats.
Hope you've enjoyed your visit to our personal page.
Please come back and visit us again.
Alafia/Peace,
Nadhiyr and Denise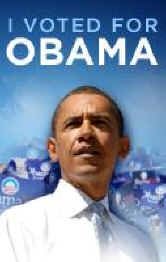 click here to go back to Members Page