Denise's Ancestor Pages:
Research Trip to Loudoun County Virginia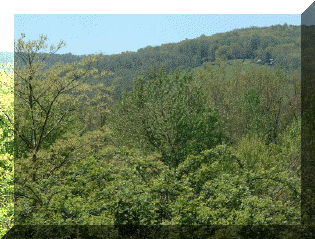 Our family home land in the Blue Ridge Mountains
With the advent of the internet, computerized census records on cds, and genealogical mailing lists and forums, you can make the mistake of assuming that historical research can all be done these days without leaving home, but this is not true. You can only go but so far in your research before you have to go to the county you are researching and manually pursue your search through old records and make contact with people face-to-face who can provide other clues.
So in the spring of 2002 I prepared to go to Loudoun County VA, to set foot in the place where my family was held in bondage and moved up from slavery and out into the world. My first cousin Margo Williams had agreed to go with me, and so on April 22nd our journey back into the past began.
I left upstate New York Tuesday morning and drove 4 hours to Philadelphia, to meet Margo, then she took over the driving to Virginia. It was a beautiful drive (with the exception of the traffic on the Washington Beltway) and as we got closer to Leesburg - passing rolling hills and farmland we grew more excited.
We had booked a hotel room in a converted colonial mansion just outside of Leesburg VA, to put us in the proper mood for going back into our families past.
Leesburg is the center for historical research in Loudoun county.
The historic section of downtown Leesburg has in walking distance:
The Courthouse
The Loudoun County Museum and Gift Shop
Our first stop Wednesday morning was the courthouse.
We went upstairs first to the area where they have tax maps - to try to locate exactly where our property was.
We received a lot of help and left there with a map of our acreage - and the names of the owners of two adjoining pieces of property.
Next stop was the records room in the basement where all the deeds, wills, estate accounts and tax records are kept. We signed in, and found helpful, courteous staff, and other researchers who were all willing to give advice and pointers. Photo copies of documents were 50 cents.
Each type of record is indexed in large directories, and the record books are easy to find and fascinating to open and read. If we had more time - I could have stayed in that room for a month reading, but since our trip was limited in duration - 5 days - I got out a list I had made earlier and we began to search.
Our first discovery was an account of the sale of the property of James FIELDS, administered by Dennis WEAVER, our great-grandmother Amelia Weaver ROBERTS' brother. Dennis was James' son-in-law husband to his daughter Delia FIELDS.
James FIELDS was a free man of color - listed in the Register of Free Negroes as early as 1845.
What is fascinating about these documents is not only the list of items that were for sale, but also the names of the people who came to the sale - neighbors, friends and many relatives:
Our family land in Bluemont (Snickersville) inherited from Dennis, adjoined James Fields property - and the list of items purchased provided clues to names of neighbors and family members who attended the sale:
The next discovery was the will of Dennis WEAVER - leaving his land in trust to his wife Delia (they had no children) during her lifetime, and then to be passed on to his two nieces - Hannah Roberts WINDER, and Martha Roberts VARICK.
As my aunt tells the story - a family conference was held, and a decision was made that the land - 12 acres, would go to the two daughters - the sons had professions, and the daughters would then hold the property. Aunt Hannah and Aunt Martha then determined that from thence forward - the land would go to their daughters - or in Martha's case - to her two nieces - my aunt Mildred and my mother Marjorie. Hannah's land would go to her daughter Martha, and then to Martha's daughter Marcia.
My mother and her sister's portion of 6 acres would be passed on eventually to my cousin Margo and to me.
The next records we found were of the Estate of Delia FIELDS, and also of Beatrice SCIPIO and Amanda Scipio VALENTINE - two sisters (deceased) that I remembered visiting as a child of 6 or 7, who were called "cousin Bea" and "cousin Mandy" by my mom - but I hadn't quite figured out just how they were related to us. My childhood memories came back in waves - I could picture cousin Bea in a long skirt, high buttoned shoes and a big broad brimmed black hat. I remembered that their house had no electricity, a pump out front, and outhouse and had an icebox - not a refrigerator. But I didn't remember where it was, and neither did Margo, and was unclear about how they were related to us. I hoped that the records would shed some light on the relationship.
While discussing the records we had found - another researcher who overheard our conversation said we really should get a hold of Eugene Scheel, historian and mapmaker, told us he lived in Waterford, but couldn't remember his phone number.
After several hours in the records room, we left the courthouse, and went over to the Balch Library a few blocks away. There we got to meet the staff members I've been in touch with via email - who provided the initial clues to discovering the slaveholder who freed our great-grandfather Presley ROBERTS in her will.
The library keeps a surname file, and we were given a file for SCIPIO, which had an interesting article about cousin Bea, written by Eugene Scheel, the Waterford historian mentioned to us earlier at the courthouse.
The Library has recently received a grant to do oral histories and document the black families of Loudoun, and there is an active African-American history committee.
On the wall of the library is a large map of the historically black communities of Loudoun:

click map to see full-size
We inquired about African-American cemeteries and burial sites, and were given a large loose-leaf binder - with photos of gravestones and indexed lists of burials - which are incomplete, but being added to as more people begin to submit information about what family members are buried where - since many of the headstones no longer exist - if there were any.
The first folder had a fairly complete list of the burials in a cemetery called Rock Hill - in Airmont, and lo and behold on the list was the name Dennis Weaver, and there were also burials of Scipio's.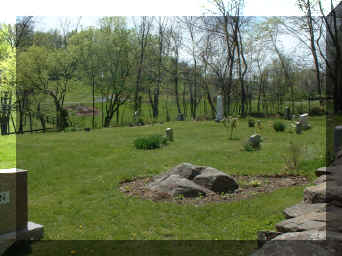 Rock Hill Cemetery - Airmont, Loudoun County VA
While discussing our search with the library staff, a patron using the library said we should get a hold of Eugene Scheel, and gave us his phone number. Thankfully I brought my cell phone with me - it would come in quite handy throughout the trip - and I called him immediately, and left a message - unfortunately he wasn't home.
Our next stop was to drive to Bluemont (Snickersville) That morning I had called Robert Hoffman - who recently republished the history of Snickersville, by Jean Herron, who I had been in touch with via the internet.
He had put up a Bluemont/Snickersville website.
He welcomed us to his home, and gave us new information about the location of historical areas we wanted to see. He also mentioned the location f the home of the Plaster family.
The descendants of the man who sold our great grandfather his land.
We drove past their farm and lovely home - but it looked like they were away.
We stopped and snapped a picture of their fields, wistfully looking up towards the mountainside where our family used to live, and where there was no longer a road to access our land.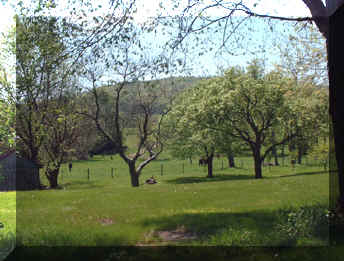 That evening, just as we were getting ready to leave Bluemont - we made one last attempt to call the Plaster's - and they were home - and invited us over.
Mr. and Mrs. Plaster were very gracious - and to our surprise, they knew us - well not us exactly - but they had our family tree - they had been following our family for years - and with intense interest - because of the plight of the land. Henry Plaster is actively involved in the preservation of Snickersville Turnpike and the surrounding area, and is the chairman of the Snickersville Turnpike Association, a group of concerned citizens working to maintain and preserve the historic and aesthetic character of the community.
Over time, there have been many changes in Snickersville/Bluemont, and recently there has been an onslaught of new development in Loudoun - some of which poses a threat to the local ecology and way of life.
Sadly, few of the black folks from the area remain - most of the original families slowly left the area to pursue jobs in the cities.
My cousin and I might be the last black landholders in town descended from the early slaves and free people of color. "Negro Mountain" is no more than a memory - and a site for walking tours when possible - but my dream will be to establish some type of permanent monument to the families that lived up on the hill.
I hope to meet with local historians and preservationists about that on my next trip down.
Thanks to the Plaster's we were introduced to our cousin Marie Scott who we didn't know. Marie shared with us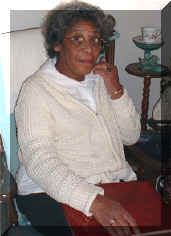 Marie Scott
family photos and some new genealogy information.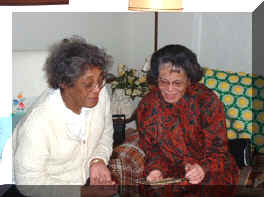 Marie and Margo look at family photos
Marie took us into the old black church, that had been moved from the mountainside into town - where there were photos of our Scipio kin, and a portrait of the church founder, deacons and snapshots of members.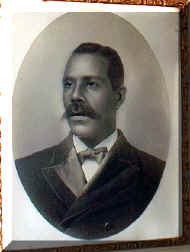 church founder - to be identified
If you get the chance to "go home" to do family research make sure you find the local churches - which were a center of community activities and a rich source of information. For many people who don't have pictures of family members - this may be a place you will find some.
Our trip was too brief, though we made major finds. As we were leaving we talked of plans to return in 2003.
I'm planning to make that trip again early in the spring (see link below for diary of that trip) and hopefully will get the chance to meet with other researchers who are tracking the same surnames.
Research trip to Loudoun 2003 - diary

click lamp to return to the Robert's