Mystery Photos in the possession of the Roberts Family
The following photos are from my Aunt Mildred's photo box, inherited from Great Aunt Martha Roberts but we don't know who they are.
We hope someone else has the same pictures in their family album and can identify them: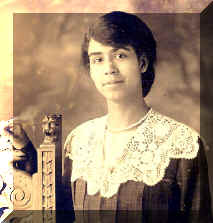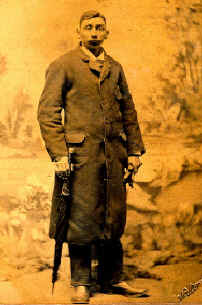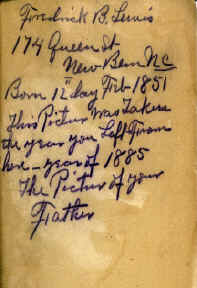 This picture is interesting because of what was written on the back - we don't know if it is a picture of Frederick Lewis, or belonged to Frederick Lewis and is a picture of my g-grandfather, Presley Roberts. My Aunt does not know anyone named Frederick Lewis, but she says the hand writing belongs to Aunt Martha Roberts', their father's sister.

Since I love puzzles, I have attempted to discover who Frederick Lewis is, and how he is related, or not related to our family. Here's what I have found out so far. My first stroke of luck was to find him listed in the Freedman's bank records:

FREEDMAN BANK RECORDS PROJECTS
FAMILY HISTORY LIBRARY FILM: 0928586
BANK LOCATION: NEW BERN, NC
APPLICATION DATE: 02 DEC 1873
AGE: 22
PLACE RAISED: Newbern NC
HEIGHT/COMPLEXION: Bright
CURRENT RESIDENCE: Newbern, NC
MILITARY INFORMATION:
WORKS FOR: Self
OCCUPATION: Farming
DEATH NOTES:
PLANTATION:
MASTER:
MISTRESS:
REMARKS:

86851.GED (Personal Ancestral File(R) ). Date 14 Jul 2000.

Birth 12 Feb 1851
Father William Blackledge
Mother Cindy Mason***
Brother Edwood Lewis*
Brother Robinson (---)**
Sister Hannah Moore
Sister Betsey Moore****

*this might be Edward in 1880 Census

** this might be Roberson in 1880 census *** perhaps Siddey Lewis in 1880 ****perhaps Elizabeth Moore 1880

Now I need help puzzling this all out - why his name is not Blackledge, nor are his sisters - and why is their name Moore? I can't find William Blackledge listed in 1870 African American CD - though there are some other Blackledge's in New Bern. There is a surname MOORE linked to our family in Loudoun county VA by marriage - but as yet can make no connection to these Moore's.

I need to find out what happened to Frederick later on - to find out how he is related to us, or if he is.
The 1880 Census lists a "Samuel Blacklidge" living in the home of "Fredderick Lewis" mulatto, 27, in New Bern. According to other records the father/step-father of Frederick Lewis was a William Blackledge. Is this a familiar mis-spelling of Blackledge? Anyone familiar with the Blackledge family history in NC? Most of the African-Americans I see listed in 1870 with this surname seem to live in Alabama, or Florida.
Freddrick Lewis 1880 Census Place: 5th Ward, New Berne, Craven, North Carolina
Source: FHL Film 1254959 National Archives Film T9-0959 Page 293A
Freddrick LEWIS Self M M MU 27 NC
Occ: Seaman Fa: NC Mo: NC
Hattie LEWIS Wife F M B 23 NC
Occ: Keeps House Fa: NC Mo: NC
Mary E. LEWIS Dau F S B 4 NC
Fa: NC Mo: NC
In the same census of 1880 I find living nearby a "Siddey" which I think is a mis-spelling of Cindy (MASON) , from the Freedman's bank records of 1873, because with her are Edward (Edwood in FBR's) and Roberson (Robinson in FBR's.
Census Place: 5th Ward, New Berne, Craven, North Carolina
Source: FHL Film 1254959 National Archives Film T9-0959 Page 297B
Siddey LEWIS Self F S B 49 NC
Fa: NC Mo: NC
Edward LEWIS Son M S MU 24 NC
Occ: Laborer Fa: NC Mo: NC
Roberson LEWIS Son M S MU 21 NC
Occ: Laborer Fa: NC Mo: NC
Francis HOLLAWAY Other F W B 53 NC
Occ: Domestic
I also found this record and wonder if this is Frederick's sister Betsey?
Census Place: Township 5, Craven, North Carolina
Source: FHL Film 1254959 National Archives Film T9-0959 Page 185C
Emanuel MOORE Self M M B 45 NC
Occ: Farmer Fa: NC Mo: NC
Elizabeth MOORE Wife F M MU 48 NC
Occ: Keeping House Fa: NC Mo: NC
Jane MOORE Dau F S MU 9 NC
Occ: At Home
Anyone researching MOORE, BLACKLEDGE, MASON or LEWIS in NC please feel free to contact me if you can shed any light on this puzzle.
Below is one of my favorite unidentified pictures in the family collection: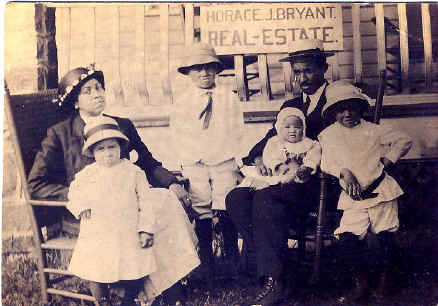 I love this picture, and the outfits the children have on. We don't know who this family is, but if anyone knows where Horace J Bryant Real Estate was it might help to begin to figure it out. I did receive one email about this - one man has said that the real estate office was in Atlantic City. AA families from Philly used to vacation there - but other than that one possible clue - still don't know who these folks are.
click lamp to return to Roberts family history