Denise's Ancestors
The Baskerville's
South Hill, Mecklenburg County, VA to Essex County, NJ
My grandmother's sister Leticia WILLIAMS married James BASKERVILLE, a blacksmith from South Hill, Mecklenburg County VA.
There are many people of color with that name from Mecklenburg county, because the Baskerville Plantation was a large one, and after emancipation, many of the freed slaves kept that surname.
Thanks to researcher Lloyd Smith - I was sent a copy of an interesting record from the time of slavery on the plantation, which I will call "the Baskerville Shoe List":
The Dr. Robert Dortch Baskerville plantation was called "Waverly", and located near Boydton, Mecklenburg County , Virginia ; he issued shoes yearly and these are some of the names on the surviving list. The shoes were issued on " November 25, 1838 , the first snow of the season".
The names of those receiving shoes were:
MEN:
YORK , ELSEY, EATON, HARDY, MILES, DORY, BOB, GILBERT, CHARLY, DICK, WILLIAM, PLUMMER, EDMOND , FREDERICK , NED, BRUNSWICK , DOUGLAS , WARWICK , NELSON, HAWKINS, and WARREN .
WOMEN:
LONG MARY, AMY, CARY, MATILDA, FANNY, ARRABELA, AZZY, BETTY, SALLY, MINSY, COLE, BETSEY COOK, DORINDA, CAROLINA , CHARLOTTE , LOUISA, KITTY, AND AGNYS.
These names became important clues to help knock down the brick wall of research into the slave period. I know that Charles Baskerville was the father of Page Baskerville.
Charles was also the father of a son Hawkins Baskerville. From my knowledge of family naming patterns, I am able to guess that the Hawkins listed on the shoe list above was more than likely the brother of Charles (listed as Charley) We may never know for sure - but it is at least a strong clue.
James Baskerville was the son of Page Baskerville and Mary Mimms. According to family history Page was sold to the Baskerville's at the age of three. It took me quite a while to find him in census records - I finally found him listed in 1900:
Baskervill, Page
Flat Creek District, Mecklenburg County, Virginia
Series T623 Microfilm 1718 Book 1 Page 212
After a long period searching, I recently located Page with his parents in the 1870 census which opened up new family connections:
BASKERVILL, CHARLES (1870 U.S. Census)
Virginia, MECKLENBURG, FLAT CRK TWP
Age 50, Male, Race: Black, Born: VA
Series: M593 Roll: 1663 Page: 413

wife Tinsey 30
son Hawkin 15
son Page 13

Also in the household - Moses Hays, with Amanda, 4 and Charles 2
The "Amanda 4" turned out to be a census error - in 1880 Moses Hayes is listed with wife Amanda 25 and son Charles 10. Living with them is Mother-in-law "Tiney" Baskerville - widowed.
Recent news from fellow researcher Kim, who is looking for Alexander's in Mecklenburg (neighboring plantation) has confirmed the births of Page and Hawkins from Baskerville slave birth records. She has also discovered that Hawkins had a twin sister named Agnes. What is more exciting "Tiney" or "Tinsey" now has a full name - "Quintina".
Out of curiosity - I did a google search for "Quintina" - got a definition - it is Latin for "fifth". But more importantly what popped up was a marriage record for a white Elizabeth Quintina McCarg to Mark Alexander in Mecklenburg County VA:
Elizabeth Quintina McHarg (married Mark Alexander
M. B. January 19, 1797 M. January 26, 1797
Minister: John Loyd Surety: Robert Baskerville
This is Mark Alexander Senior. The Baskerville's and the Alexander's intermarried. So perhaps Quintina (the slave) was acquired through marriage or sale. And Robert Baskerville provided the bond for the marriage.
Kim came to a chat session at Afrigeneas and mentioned that a large portion of Mark Alexander's wealth came from his marrige to Elizabeth Quintina McCarg - who brought 100 slaves to the marriage, according to a quote from Judge Charles Alexander - which we are now trying to track down.
I have found in my other slavery searches that quite a few children of slaves got named for the master, the mistress or their children.
Quintina as a first name hasn't popped up in any of the slave records from Mecklenburg that I have, but am now getting ready to track the McCarg family (at the suggestion of other researchers) Strong possible that Quintina's mother, and Quintina were owned by Quintina McCarg Alexander. Family oral history states that Page Baskerville - Quintina's son was "sold away from his mother at age 3".
But perhaps, he was sent to the Alexander's. Will keep looking through both Baskerville records and Alexander records.
Page's father Charles was owned by the Baskervilles - as was his brother Hawkins.
I found Hawkins Baskerville in 1880 census:
1880 Census Place: Palmers Springs, Mecklenburg, Virginia
Source: FHL Film 1255378 National Archives Film T9-1378 Page 205B
Relation Sex Marr Race Age Birthplace
Hawkins BASKERVILLE Self M M B 35 VA
Occ: Preacher Fa: VA Mo: VA
Harriet BASKERVILLE Wife F M B 28 MD
Occ: Keeping House Fa: MD Mo: MD
Eliza DAVIS SDau F S B 8 VA
Fa: MD Mo: VA
I have not identified the maiden name of his wife Harriet - though since the step-daughter is surnamed Davis, and born in Maryland I must assume there was a prior marriage in MD.
Other information:
Page Baskerville
Birth Mar 1848 Death abt 1929
Burial South Hill, Mecklenburg VA
Marriage abt 1878 Mecklenburg County VA
----------------------------------------
Spouse: Mary Mimms or Mims
Birth 1862 Mecklenburg VA
Death abt 1965 Philadelphia PA
Children:
1 M Robert Baskerville
Birth 1895
Spouse: Jennie ?
----------------------------------------
2 M Littleton Baskerville
Birth abt 1880
Spouse 1. Betty Baskerville (this is her maiden name)
Spouse 2 Edith
Spouse 3 Mary
According to my cousin Judy Lyons. "Uncle Littleton and his third wife Mary had a chicken farm (I think on Pompton Avenue) (New Jersey) that my parents apparently visited often during the 1930's. Those trips made an indelible impression on my mother. She enjoyed Aunt Mary's fresh chicken fried in lard, but was definitely not enamored of the sights, smells and workings of a chicken farm. Until the day she died, she could not stomach the smell of a raw egg".
Letter from Judy Lyons (daughter of Ethel Baskerville Walker) dated March 11, 2003.
----------------------------------------
3 M James Baskerville
Birth July 26 1885
Death 1968
Spouse Leticia Williams
----------------------------------------
4 F Annie Baskerville
Birth abt 1898
Spouse: (?) Mayo
In a letter I received recently, from my cousin Judy Lyons, daughter of Ethel Baskerville Walker, she writes about her brother Ron's early memories of Annie Baskerville Mayo:
"When my brother Ron was about six (in the early 1940's) my Mom sent him to stay with Aunt Annie for the summer. What Ron remembered most (and what most fascinated my mother) was Aunt Annie's striking independence and strength. Ron remembered her splitting her own firewood, capturing and dressing rabbits and other wild game, gardening, cooking outside over an open fire, and generally living successfully off the land. "
----------------------------------------
5 M Alex or Alexander Baskerville
Birth abt 1891
Spouse Courtney DORTCH
Marriage abt 1915
----------------------------------------
6 F Rosa Baskerville
Though I have no proof as yet, I believe James Baskerville learned blacksmithing from an uncle - there are several Baskerville blacksmith's in Mecklenburg in the 1880 census.
By 1910 James had migrated to New Jersey, to take up his trade.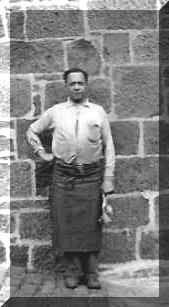 James at work in blacksmith's apron
He married there, and he and his wife, raised four daughters; Mae, Bernice, Ethel and Jeannette.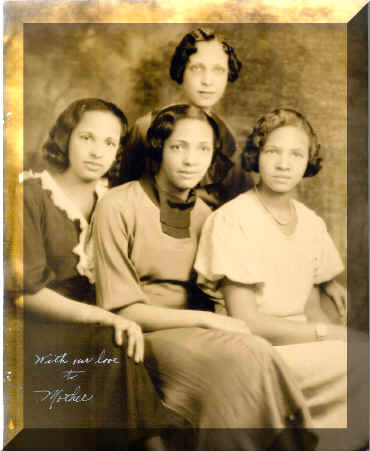 The photo was taken in 1933, when Mae was 23, Bernice was 21, Ethel was 19 and Jeanette was 13. (Mae is in the back, Bernice is in the center of the front row.)
Mae married Ethelbert Thompson GURLEY, an electrical contractor born in New York. His father David Gurley, a carpenter, was from St. Kitts. They had one son, Lawrence.
Ethelbert's mother was Victorine THOMPSON. She was also from St. Kitts, but she and David met in Brooklyn. She was a daughter of Tommy Thompson, the recognized natural son of a white plantation owner in St. Kitts.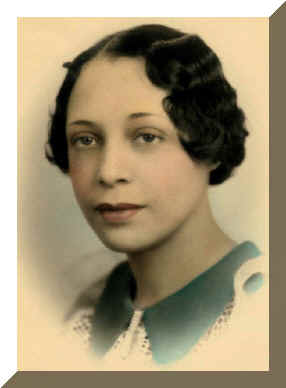 Mae Baskerville Gurley
Bernice married Edward Daniel Stone Jr., from Delaware, born April, 1910, a baseball player in the Negro Leagues. who played for the Newark Eagles, and traveled to Cuba and Mexico. They had two children; Edward "Lucky", and Linda.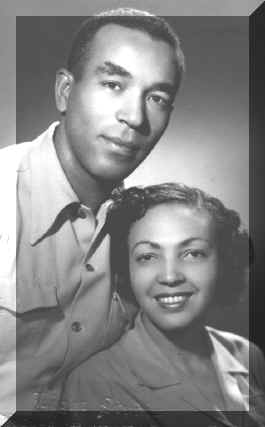 Bernice Baskerville and Edward Stone
Ethel married John Walker, and they had two children, Ron, & Judy.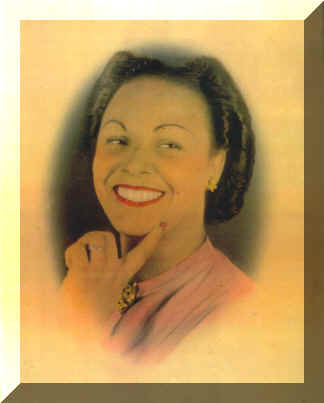 Ethel Baskerville Walker
Jeanette died young.
Other Baskerville's related to this family:
General Baskerville had a wife named Mandy - is buried somewhere near Montclair NJ. He had 13 children and lived in South Orange.
Some of his children were:
Bill
Lily May
Dorothy - moved to Phoenix Arizona
Rosa Baskerville Miles
One son became a minister in a church in East Orange
If you have information about any of these Baskerville's or think you might be related - drop me an email: